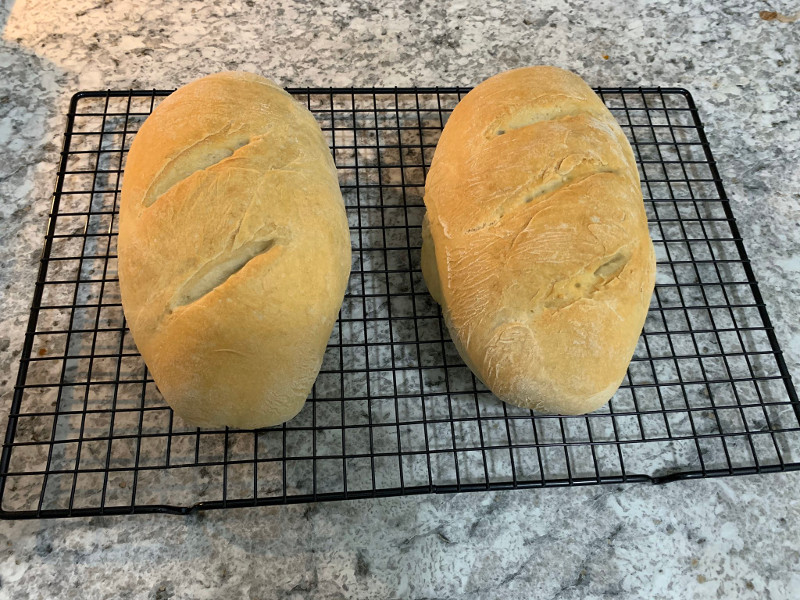 | | Grams | Description | Note |
| --- | --- | --- | --- |
| Flour | 540 g | KAF Organic Hard Red Wheat | 12.7% protein content |
| Water | 351 g | distilled water | 65% hydration |
| Salt | 11 g | Morton's Sea Salt | non-iodized |
| Yeast | 8 g | Meijer Bread Machine Yeast | highly active |
Behold, my first attempt at baking bread. Bread-making is all the rage right now, what with everyone spending most of their time at home. I figured I'd give it a shot as well. I should say that I'm not very handy in the kitchen. I can make a few things, but cooking isn't my strong suit. Baking bread seems very formulaic based on the video I watched about the straight dough method. That's where I decided to start.
I used baker's percentages to determine how much flour, water, salt, and yeast I would need to make x2 1lbs loaves. You can see the break down of measurements and ingredients above. I didn't want to do this by hand ever again, so I made a google sheet to do it for me. You type in the amount of dough you want to create(in lbs) and it calculates how much of each ingredient is needed(in grams).
The loaves turned out okay, but not great. They didn't rise or conform to the oversized pan, the crumb was dense, and the crust developed an elephant skin. A lot went wrong, truthfully, but the end result was edible and even tasted decent. Overall, not bad for my first attempt.
Notes
My measurement of water temperature was inaccurate
I used a hand-mixer with dough hooks. The mixer slowed as the gluten developed. I might have mixed for too long.
I accidentally degassed and shaped the dough before bench rest. This could contribute to the small size.
First 10 minutes of bake were at a lower temperate than intended.
Retroactively discovered that I attempted to bake 1lbs loaves in 2lbs loaf pans.